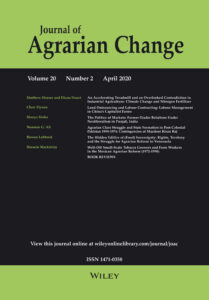 LIAM CAMPLING, CRISTÓBAL KAY, JENS LERCHE, BRIDGET O'LAUGHLIN, CARLOS OYA, JONATHAN PATTENDEN AND HELENA PÉREZ NIÑO We are pleased to announce that Martín Arboleda has been awarded the 2020 Bernstein & Byres Prize for his article 'Towards an agrarian question of circulation: Walmart's expansion in Chile and the agrarian political economy of supply chain capitalism', Journal of Agrarian Change, 2020, vol.…
Read More
International Initiative for the Promotion of Political Economy (IIPPE) 22nd Annual Conference, 7-9 September 2022, Bologna, Italy Call for papers and panel proposals: Agrarian Change Working Group The agrarian change working group invites submission of proposals for individual papers, and thematic panels. Submissions are open to all aspects of agrarian change and but we…
Read More
Our new AQs Shorts features Shapan Adnan. He speaks about the impact of state violence against Rohingyas on the dynamics of agrarian change in Myanmar as well as its implication for our understanding of dispossession, primitive accumulation and the agrarian question of labour. As part of this, he also reflects on the survival strategies of…
Read More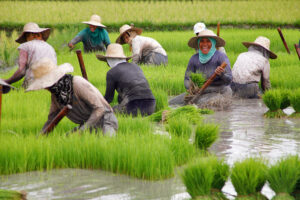 A new special issue in the Journal of Agrarian Change (Vol. 22, Issue 1) takes stock of critical developments in the political economy of contract farming.
Read More
The Journal of Agrarian Change and SOAS Department of Development Studies have been organizing an annual Agrarian Change Seminar Series since 2008. Like last year, this year too the series is organized as webinars, although some sessions will be hybrid. These webinars are open to the public across the world. Please note: registration links for…
Read More
In our new AQs Shorts view, Lyn Ossome discusses the impact of neoliberal globalization on labour relations in the global South, especially in relation to forms of labour organizing.
Read More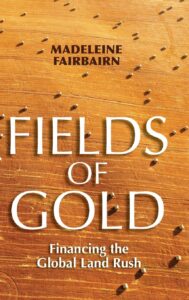 In recent years, land has once again received a great deal of attention in critical agrarian studies. The most recent 'land rush', which began in 2008, has forced issues surrounding land to centre stage, not only in the Global South but also in the Global North.
Read More
The seventh part of our AQs Shorts series features Haroon Akram-Lodhi. He discusses the role of culture in shaping agricultural productivity in eastern and southern Africa and how we may approach the intersections between gender and class in agrarian political economy.
Read More