In our new AQs Shorts view, Lyn Ossome discusses the impact of neoliberal globalization on labour relations in the global South, especially in relation to forms of labour organizing.
Read More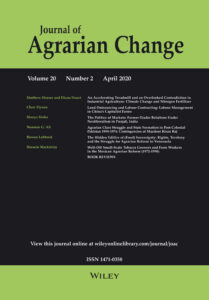 Call for Papers For a Special Issue of the Journal of Agrarian Change Edited by Elena Baglioni, Hannah Bargawi, Alessandra Mezzadri, Lyn Ossome and Sara Stevano The Covid-19 pandemic and its socio-economic consequences have exposed the centrality of social reproduction for the functioning of global capitalism (Mezzadri 2020, Stevano et al, 2021). A set of…
Read More
CARMEN DIANA DEERE The use of household surveys to analyse the economic activities of peasants has become much more commonplace since Alain de Janvry and I published 'A Conceptual Framework for the Empirical Analysis of Peasants' in 1979. However, an issue that has received insufficient attention until recently is that of who should be…
Read More
This post is written by Sara Stevano who is Lecturer in Economics at UWE, Bristol. When I began my research in Mozambique, in August 2011, I wanted to understand women's participation in remunerated work.
Read More
The ongoing wave of strikes in China is the latest manifestation of a dynamic that can be summed up in the phrase: where capital goes, labor-capital conflict shortly follows.
Read More